Problem
What will Zephyr change?
A solution with: Full Bed, Full Privacy, Full Aisle Access; All for the price of Premium Economy
• Economy class hasn't evolved
Most airline seats haven't changed since the 1970's. 99% of all Economy Class seats are fixed upright and impossible to sleep in. They force unnatural postures over long periods of time and can damage health.
• Business class is too expensive 
Upgrading is not an option for the majority of travelers due to the prohibitively high cost. For travelers willing to pay more for comfort, Premium Economy Class seating offers glorified economy seats that only give a few extra inches of leg space – with no lie-flat feature.
• Travelers just want to sleep
Airlines try to justify higher fares by bundling perks like in-flight meals, lounge access and extra baggage allowance. In a study we conducted, 70% of travelers would trade these perks for the sole ability to lie-flat and sleep.
It's time to change the status quo and reclaim dignified, comfortable and healthy air travel for all travelers
Solution
Zephyr, a lie-flat seat designed for everyone
Zephyr is a lie-flat seat designed for Economy Class travelers on long distance flights.
Our patent pending design introduces a social-distancing compliant seating module that will disrupt the entire airline industry and make flying great again for all travelers.
500000
$
Invested on Mockups
Traction
Additional Points for Zephyr Seats
• A provisional design and utility patent has been filed for the Zephyr Seat
• Full technical and design feasibility study has been approved by leading aerospace engineers
•  Invested $500,000 to build a mock-up in partnership with award-winning aerospace design company Style & Design
2018
Provisional Patent Filed.

Concept Validated
2019
Full scale mock-up of V2 design prototype launched.

First customer and airline feedback.

Captured global attention and media recognition
2019
Customer feedback based off of V2 mock-up.

Enhanced product architecture integrating frame and chassis concept.

Maturation of design for manufacture.
2021
Ergonomic focused prototypes developed.

Dynamic Safety (Certification Engineers) Join team.

Computer aided stress tests simulations produced.

First reviews with F.A.A completed.

Designed in scale for 787 and A-350. 
Soon..
Proceeding to producing a full-scale, high-quality mockup for conventions and mass exposure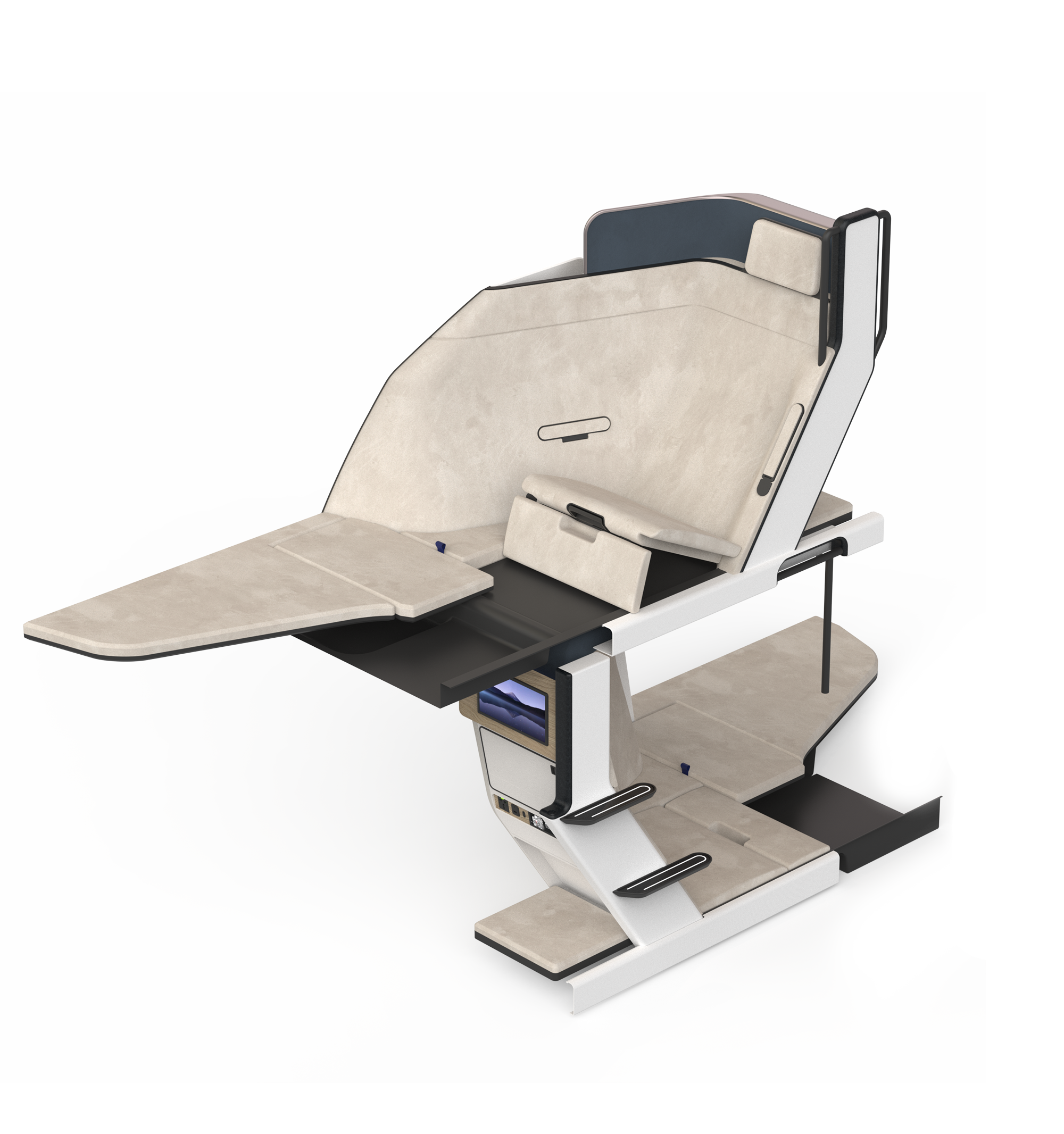 Customers
Bringing the Zephyr Seat to market
We are currently in direct discussions with commercial airlines, seating manufacturers, and OEMs (Airbus, Boeing)
Business model
Selling to both commercial and private airlines
Zephyr will be sold wholesale to commercial airlines and directly to consumers of private aircrafts. The seat will be also sold in the form of licensing to seat manufacturers and airlines (who may manufacture their own seats in house). 
Each seat will be priced at $30-40k/unit, which is 60% less than the average cost of a business class seat and 80% lighter (due to advanced composites and limited moving pieces).  We estimate a gross profit margin of between 30-40%, depending on volume.
The Zephyr Seat can be configured to any mode of transportation (air, rail, bus, military).  We are focused on commercial airlines, where we see the best opportunity for innovation and impact.

For travelers, we want to create a movement to MAKE FLYING GREAT AGAIN! We need your support to help convince airlines the Zephyr Seat is the future of air travel!
Zephyr Seat only needs one airline launch customer to set the industry standard, and then others will follow quickly.
Zephyr Seat
Use of Funds Raised
80
%
Engineering/R&D to pass rigorous certification by the Federal Aviation Association
10
%
Sales (to continue direct engagements with prospective airline customers)